It's true that Social Media when harnessed well, has the ability to bring people together even in the most difficult of times. Right now we find ourselves largely unable to physically communicate with our parents and indeed interact with Children, but Social Media is our ally here and we can use it to create, engage and share content that can help keep engagement strong. From sharing home-learning resources to creating support groups; here are our "Four Easy Social Media Tips for Childminders During Closures."
Tip One: Create a Facebook group for your setting
A Facebook Group is a place for group communication and for people to share their common interests, they let people come together around a common cause, issue or activity to organise, in our case, it's a great tool for sharing updates and resources that could aid with home-learning and home-based activities parents could take part in. Anybody can set up and manage their own Facebook Group. Here's how (do this from your Desktop PC)…
1. Find "Add Group"
From your "home page" on Facebook go to the Explore – Groups section on the left side menu and click on, "Groups."
Once you get there, it will look like this: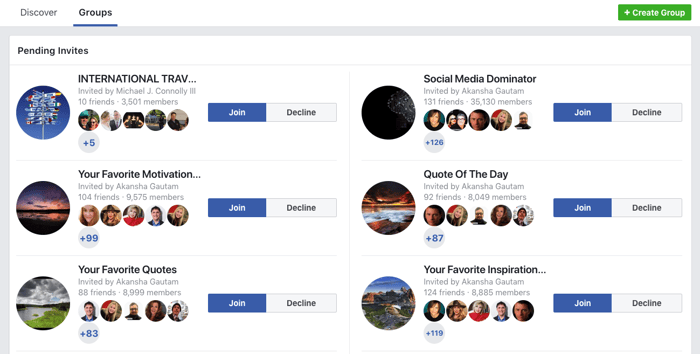 2. Click "Create Group"
You'll be taken to a page that displays the option to create a group as well as showing you some:
Pending Invites
Favorites
Your Groups
Groups You Manage
To begin the process of creating a group, click "Create Group" in the upper right hand corner.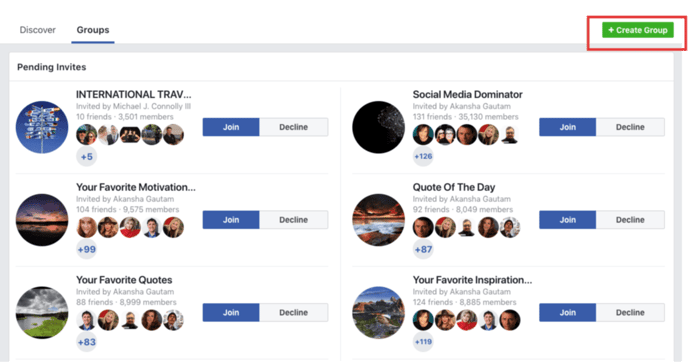 >> Facebook also offers an alternate way to create a new group
Right of your name and the notifications bell in the right hand corner, click on the drop down and choose, "Create Group."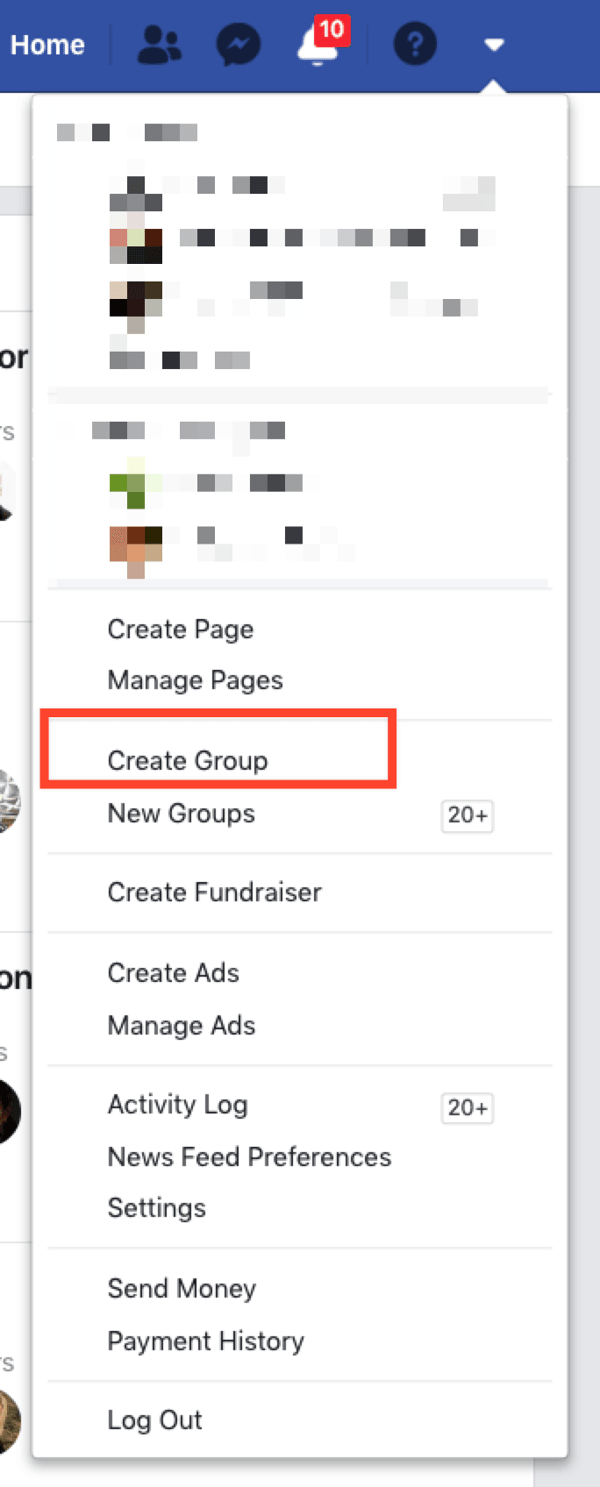 Once you choose that option, a popup box will open where you can begin to add your Facebook group details.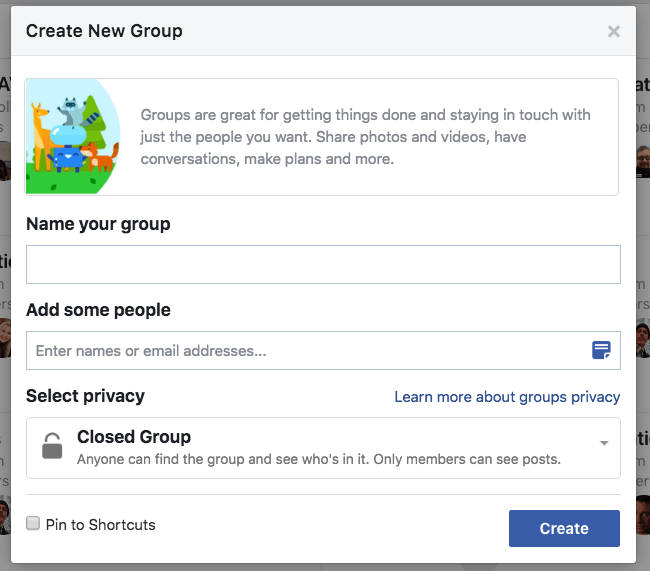 3. Name Your Group
The first thing you need to do is give your group a name. 
4. Add Members
Facebook requires you to add at least one friend to the group before you can create it. 
So in order to create your group, you'll need to add at least one friend to the group.
5. Choose Privacy Setting
You'll now need to decide what privacy setting you want your group to have.
This is probably the most important choice you'll make while creating your group – as there are some limits to changing down the road.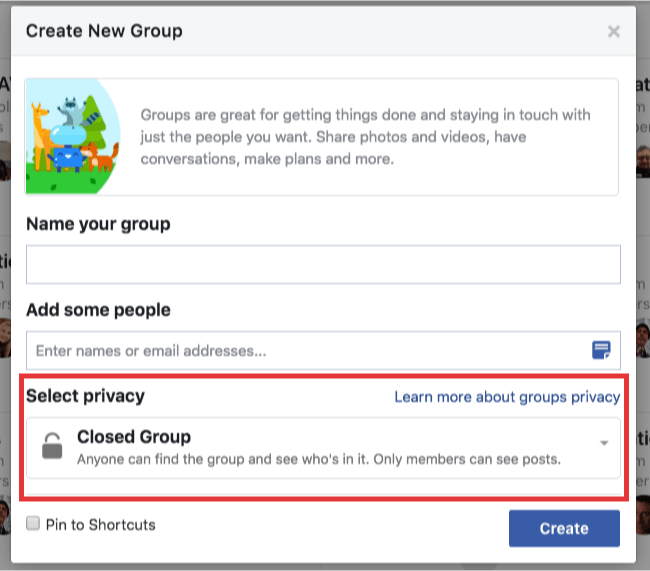 If you have fewer than 5000 members you'll be able to change the settings as you see fit.
There can be confusion about what privacy setting a group should have – Open, Closed or Secret. Secret will give you the most Privacy and it is recommended that you choose this option, remember Social Media is not a platform for sharing personal and sensitive information, if you want to update a Parent on their Children's learning for example, you can do this through foundations securely instead. 
It's fairly self explanatory -but here's another great graphic from Facebook to break it down: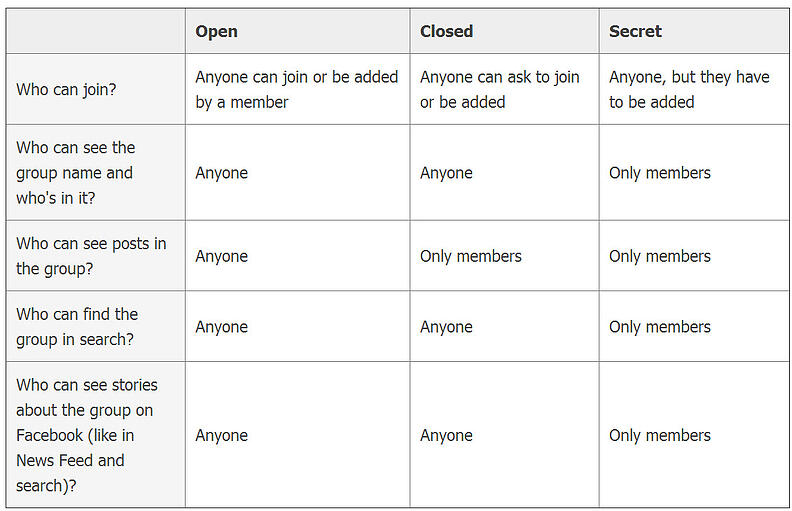 6. Click Create
After you choose your privacy setting, click the "Create" button as you've seen in previous images: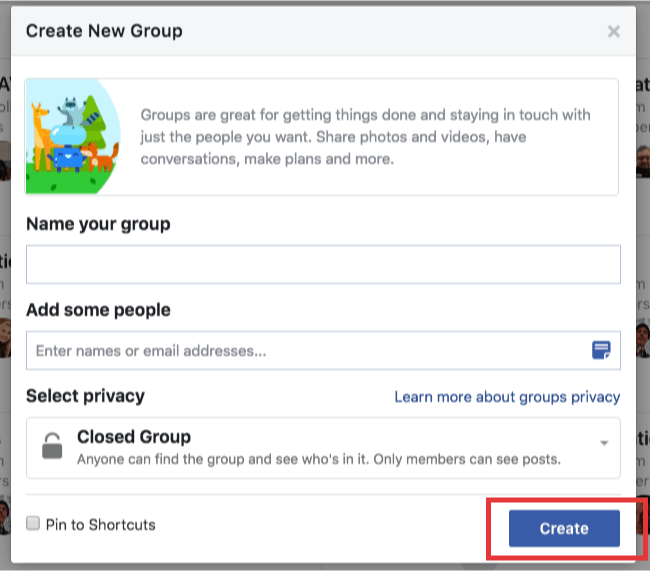 7. Add Your Cover Image
Facebook will now give you the option to add your creative graphic for your header or cover image.
This is completely up to you and should be aligned with your current brand or the theme of your group.
8. Complete "About" Section
Your about section is important for 2 reasons:
Gives prospective members an idea what your group is about
Can display any "rules" you may have about the group
So fill it out as you see fit – seeing as this is YOUR group.
10. Edit Group Settings
Next you'll want to edit the group settings.
You do this by clicking on the "More" tab and then clicking "Edit Group Settings":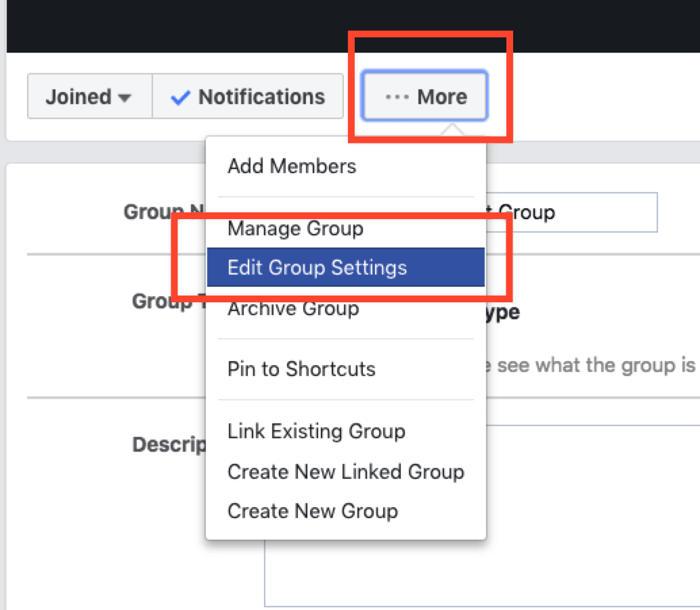 Once on the edit page, you'll have many options to change: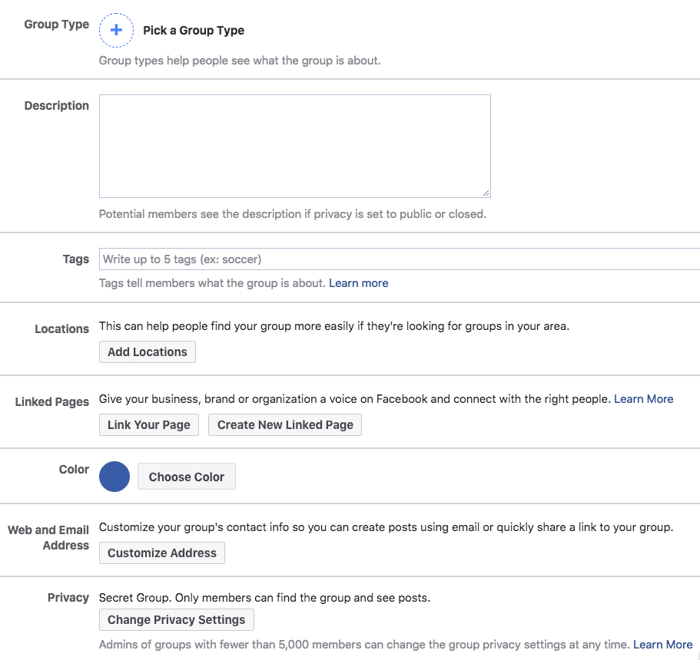 Items you can change:
Group Name
Group Type
Description
Tags
Locations
Linked Pages
Privacy Settings
Membership Approval – Do you want to let anyone add members or should only you be able to?
Set a Group Address -Here you'll have a chance to give the group a custom url as well as an email address where people could email the group directly.
Change your Description
Change Posting Permissions – Here you can decide if only admins can post or if members can as well
Post Approval – You can require that all posts be approved by an admin before going live
Once you're done and happy with the settings, click "Save".
Your Group is Ready to Go!
Tip Two: Facebook & Instagram Live
Facebook & Instagram Live videos are a fantastic way to engage with your parents.
They are free 

You can connect directly with multiple parents at once 

The video is available to catch up on later for any one that's missed it 

You can answer parent questions publicly, so won't need to respond to the same questions again and again.
How to start a Facebook Live Video:
Broadcasting a Facebook Live Video is easy. Just log into your Facebook account, and select 'Live' from the top of the status bar. 
How to start a live video from the Instagram app:
Tap  in the top left of Feed or swipe right from anywhere in Feed.
Scroll to Live at the bottom of the screen, then tap .
The number of viewers appears at the top of the screen and comments appear at the bottom.
You can add a comment by tapping Comment at the bottom of the screen.
Tap a comment and tap Pin Comment to pin it so that viewers can see it more easily.
When you're done, tap End in the top right then tap to confirm. From there, you can tap  in the top left to save it to your camera roll, or share it to your story.
How to promote the video: 
Your video will stay on your timeline so anyone that missed it can catch up. Parents can share it with their friends that they know will be interested and you can also embed the finished video in your website. 
It's important to have parents watching live so you'll need to make parents aware that it is happening. Pick a date a few days in advance. Set a time slot where your parents are likely to be available. 
(Our followers are most active between 7 and 9pm. If you have a Facebook business page, you can click on 'Insights', then select 'Posts' from the left hand menu and you will see a graph of your followers activity at different times.) 
Drum up as much interest as possible by informing your parents of the date and time, through emails and social posts.
In your live video you could:
Read one of your nurseries favourite books

Play an interactive game

Sing one of your favourite nursery rhymes (and get the children to join in dancing at the other end!)

Do physical activities and fun games which will get the children moving
Tip Three: Competitions
Competitions can increase your number of followers and get them to engage with you online. Once they have engaged with you, they are more likely to see your future posts. Parents are much more likely to interact with competitions over traditional content as they are still fun and rewarding.   
As everyone is at home right now why not host a photo or video contest. Get them to show you what they are up to during isolation and offer a small prize for the most creative idea, you could even get your followers to vote for a winner!
Here are a few ideas for competitions:
Send in your isolation photo
Best group sing-along (you may have seen how funny these can be and we could do with a good uplift right now) 
Best drawing competitions (can also be themed around Easter!) 
Best photo caption competition 
Facebook Live "spin the wheel" competitions 
Facebook has employed a few competition rules which you should follow here.
Tip Four: Invite Your Parents
One that gets missed and is usually not done on a regular basis is inviting your parents to all your Social Media accounts. It's super simple to do, here's how to do it within Facebook below, but you can also copy and paste your Social Media account's URL into your email footer, your newsletter, your website and everywhere you can to spread the word.
Invite your Facebook friends
Facebook has a built-in feature to tell your Facebook friends about your Page. On the right side of your Page, Facebook suggests a list of close friends that you might want to invite to like your Page. You can also search for particular friends to share your Page with.